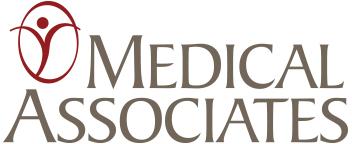 Certified Medical Assistant/LPN/RN-Psychiatry & Psychology: Up to $3,000 in bonuses!
Medical Associates
,
Dubuque, IA
This listing has expired
Join the area's most comprehensive team of mental health providers! The Psychiatry & Psychology Department at Medical Associates is seeking to add a full-time Certified Medical Assistant, LPN, or RN to their team!

Schedule: Monday-Friday between the hours of 8am-5pm, 70 hours per pay period, full-benefits eligible.

Benefits:
Health & dental insurance
Paid time off
Paid holidays
401k/profit sharing
Employee discounts
Bonus:
As a newly hired CMA, LPN, or RN, you may be eligible for up to $3,000 in bonuses!
$1,000 bonus paid when you start working as a CMA, LPN, or RN
$1,000 bonus paid after completion of your first successful year as a CMA, LPN, or RN
$1,000 bonus paid after completion of your second successful year as a CMA, LPN, or RN
What You'll Be Doing:
Collaborate with health care team to direct/perform nursing assessment and interventions according to plan of care
Integrate the nursing process in all patient contact, care, diagnostic testing, and treatments. Collect pertinent patient health care data, review medical records and confer/collaborate with providers to ensure patient needs are met
Communicate effectively with patients, coworkers, and others. Promote patient wellness and provide patient education
Document care provided, including but not limited to: assessment, interventions, medication, patient education, and assist with integrity of medical record
Maintain an office environment that is safe, neat, organized, and supplied with necessary equipment, instruments, supplies, and educational materials. Ensure equipment is functioning safely and properly. Perform cleaning and maintenance of equipment according to guidelines.
Demonstrate flexibility in performing other additional duties of patient care. Provide input for devising systems to improve quality and efficiency of patient care and workflow. Participate in required meetings.
Complete all other assigned projects and duties
Knowledge, Skills, and Abilities:

Experience - From six months to one year of similar or related experience. Prior mental health experience not required.

Education - Equivalent to a two-year college degree or completion of a specialized course of study or certification at a business or trade school. Certification of Medical Assistant, LPN, or RN license required.

Interpersonal Skills - A significant level of trust and diplomacy is required, in addition to normal courtesy and tact. Work involves extensive personal contact with others and/or is usually of a personal or sensitive nature. Work may involve motivating or influencing others.
This listing has expired
Job Details
Preferred Candidates
| | |
| --- | --- |
| Years of Experience | -- |
| Education | -- |