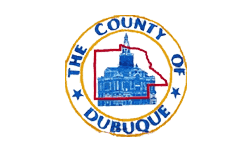 This listing has expired
Dubuque County is accepting applications for a full-time Director of Disability Services to perform services and collaboratively works with regional Coordinators; works directly with Dubuque County Board of Supervisors and other county staff and community stakeholders to plan and implement services that support adult and children's brain health, developmental needs and comorbidities.
Examples of Duties:
Acts as Coordinator of Disability Services for Dubuque County MH/DS system;

Tracks services and costs for people supported directly by the county through mental health commitments or other programs
Develops, submits, and monitors the county administrative budget
Collects and reports data to the county Board of Supervisors
Interacts with the public to provide education and information
Assists in the assignment of work, hiring, training and disciplinary decisions, using independent judgement, with support staff. Conducts performance appraisals of the support staff
Effectively engages the community to innovatively develop new services that support brain health, developmental needs and comorbidities
Collaborates with other funders, service providers, people with disabilities and their families, and advocates




Works collaboratively with the Regional CEO and other Coordinators to ensure that:

Intake in the MH/DS system is completed for any persons wishing to access regionally funded services
The Region's budget is intentionally set to balance the needs of people supported as well as accountable and responsive to tax payers
The Region's Strategic Plan is supported and implemented
The Region's policy and procedure manual is developed and remains in compliance with all applicable laws, County and Regional policies, and program standards.
Data is collected, analyzed, and reported to the Dubuque County Board of Supervisors and Regional Governing Board, as requested
Service development is innovative and in accordance with Iowa Code requirements
Regional quality assurance activities are implemented, supported, and measured
State reporting requirements are sufficiently met
The County and Region's provider network is robust and adequately supported
Minimum Qualifications:
Bachelor's Degree in social work, public health administration or related human services field from an accredited college or university is required.
Master's degree is preferred.
Must have experience working with people with disabilities.
Must have experience working with people with comorbidities.
Knowledge of:
The state's Mental Health/Disability Services system
Effective brain health, comorbidities and developmental supports
Designing and implementing quality improvement activities, including program evaluation
Budgeting procedures
Computer word processing, spreadsheet and database software applications.

Ability to:
Present ideas effectively, orally and in written form
Establish and maintain effective working relationships with county officials, regional staff, service providers, people with disabilities, and the general public
Conduct detailed analytical evaluation and studies, and prepare related reports and recommendations
Actively engage with an annual professional development plan with the Regional CEO
To Apply visit https://www.governmentjobs.com/careers/dubuquecounty
Deadline to Apply is December 23, 2020 3:00PM
This listing has expired
Job Details
Preferred Candidates
| | |
| --- | --- |
| Years of Experience | -- |
| Education | High School/GED |